Revision Guide – Economics
SUBJECT: Economics
EXAM BOARD AND CODE: OCR J205
NUMBER OF PAPERS: 2
LENGTH OF PAPERS: 1 hr 30 mins
EQUIPMENT REQUIRED: Alongside normal exam equipment you need a calculator
WEBSITE LINK: https://www.ocr.org.uk/qualifications/gcse/economics-j205-from-2017/
---
Topics to be revised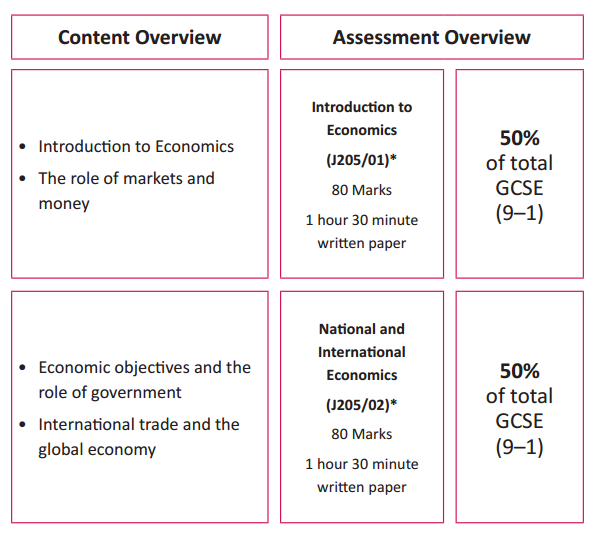 ---
Revision Tips
Know how you are assessed, and what topics
You should be familiar with the assessment objectives of your course, in particular, the difference between communicating knowledge and understanding: applying knowledge and understanding, analysing and evaluating, and how to demonstrate these skills.
Popular command words used in the examinations require you to:
State: Give the facts, ignore minor detail
Identify: Recognise and briefly describe.
Calculate; Use the figures provided in the text to work something out, writing down each step of the calculation.
Explain: Make clear and give reasons; clarify using examples.
Discuss: Describe different aspects of the subject / present two sides of the argument, and give a reasoned conclusion.
Assess: Judge how important or successful something is.
Evaluate: Judge the likely worth / advantages / disadvantages / success – stating why by referring to the evidence available.
Recommend: Consider the evidence and write down the course of action you consider to be the most appropriate – clearly stating reasons why.
Practice doing questions in a set time limit. This is absolutely essential.
Many students have the knowledge and ability to secure high grades but fail due to lack of time. DO NOT let this happen to you – PRACTICE MAKES PERFECT!
---
Recommended course book
https://www.amazon.co.uk/OCR-GCSE-Economics-Clive-Riches/dp/1471888347/ref=sr_1_1?s=books&ie=UTF8&qid=1537800323&sr=1-1&keywords=gcse+ocr+economics
https://www.amazon.co.uk/My-Revision-Notes-GCSE-Economics/dp/1510472185/ref=d_pd_sbs_sccl_2_1
---
Exam Hints
Know the number and structure of questions and time limit.
For both exams it equals 1 minute per mark.
Give reasons and provide an explanation.
Pay close attention to the quality of your written communication on questions marked with an asterisk, eg 2 (b)*.
---
Download a printable version here