Key Stage 3 Assessment Guide
Introduction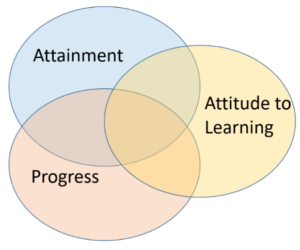 King Edward VI School introduced a new assessment and reporting system in September 2021 for Years 7 – 9. The new system aims to further enhance the quality of teaching, learning and assessment so that our students make outstanding progress and have a strong foundation for achieving success at GCSE.
Under this system students will be assessed on Attainment, Attitude to Learning and Progress. Although the three distinct areas will be reported on individually they are all linked and will inevitably (as pictured) crossover.
Assessment has many purposes and takes many forms. The most important of these are to inform teaching and learning, and the development of the curriculum, which in turn improve outcomes for students.
The purpose of this document is to set out how the assessment systems work to meet these aims.
The Three Assessment Areas
1. Attainment
Attainment is reported on a 1 to 5 scale and recorded on Go4Schools, with Level 5 being the highest.
When it has been marked and graded, summative assessment data is published on Go4Schools. This 'live' assessment data can be viewed by parents and students on Go4Schools throughout the year, but not all of it will be in the 1-5 scale and some will be formative. This data forms the larger picture that is used to by staff to determine both attainment and progress judgements.
The school reports the 'Current Level' in each subject for each student in a mid-year report (January) and an end of year report (June). The Current Level is calculated by aggregating the summative assessment data over each assessment window.
Departments determine the Attainment Level that students are working at using one of two different processes:
Level Descriptors
Level Descriptors are mapped carefully to the curriculum and detail the specific content, skills and knowledge that are required to reach each level. The level descriptors for each Department are accessible by students and parents allowing them to make sense of their attainment level and helping them identify what they need to do to improve.
Level Boundaries
Level boundaries are used to determine the standard required to reach each level. Departments using level boundaries share the curriculum content covered within each assessment window, as well as the score boundary required to reach each level.
Course overviews and assessment documents for each Key Stage 3 subject are available to parents and students here.
Please note that PE takes a slightly different approach to assessment, following a set 1-5 continuum throughout the whole Key Stage (rather than a specific continuum for years 7,8 & 9). Whilst we feel this is much more reflective of progress throughout the key stage, it does mean that students scores will be lower when compared to other subjects. 
2. Progress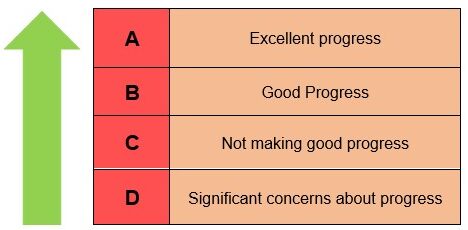 Teachers report Progress using an A to D scale (see table).
Student progress is monitored by teachers on a continuous basis.
When determining Progress grades, teachers will consider:
Feedback from ongoing formative assessment processes in the classroom
Student effort, behaviour for learning and attendance
Student's starting points
Student's current and previous Attainment Levels
It is important to note that the Key Stage 3 curriculum steadily increases in difficulty. This means that a student could remain at a Level 3 for Attainment across the whole year, but still get be making good (Grade B) or even excellent (Grade A) progress.
3. Attitude to Learning
Student behaviour and effort are key components of student progress and are reported on the A to D scale detailed below: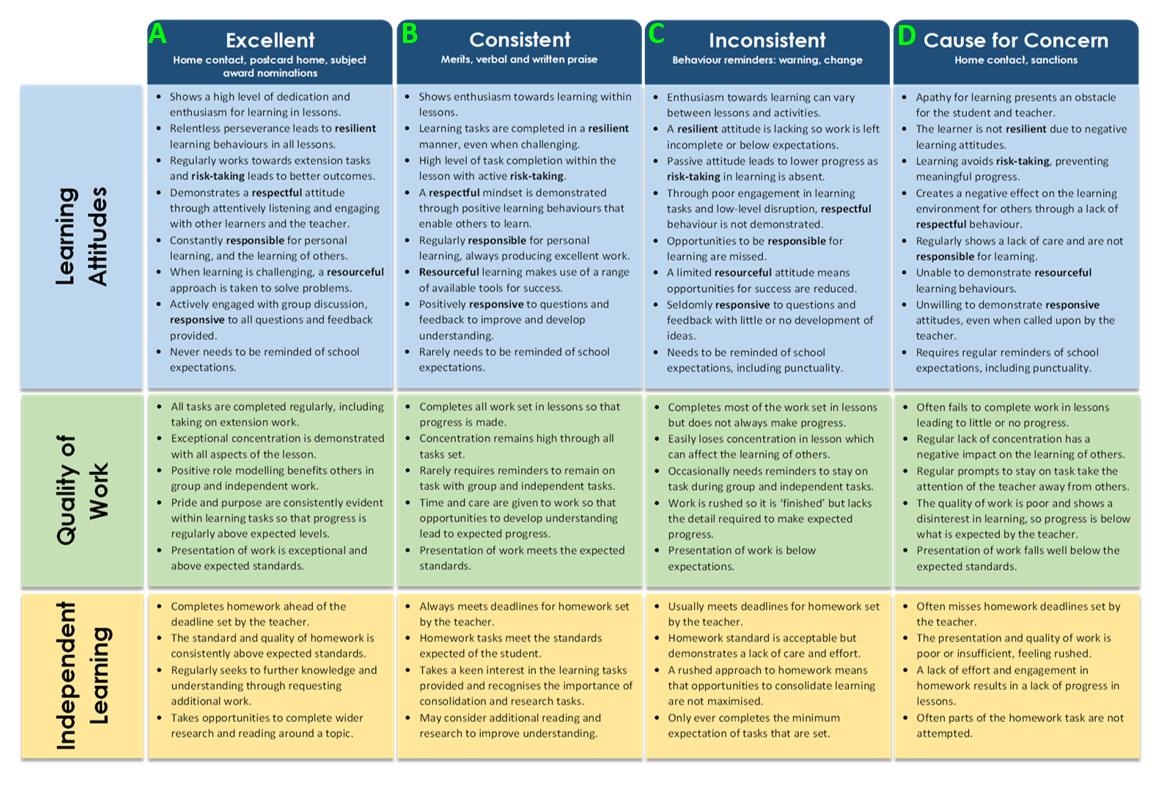 Reporting

There will be three reporting points over the course of the year. The first of which will focus on Attitude to Learning and Progress. The second and third will include all three areas of assessment.
Rotation Subjects
In KS3, some subjects are taught in a carrousel on rotations that last for 9-10 weeks each.
Rotation subjects will report on Attainment as well as Progress and Attitude to Learning at the end of each rotation
Rotation 1: November
Rotation 2: February
Rotation 3: May
Rotation 4: July
Summary
Assessment data will be 'live' on Go4Schools throughout the academic year and reports will be produced three times a year for the three areas of assessment, as detailed below.