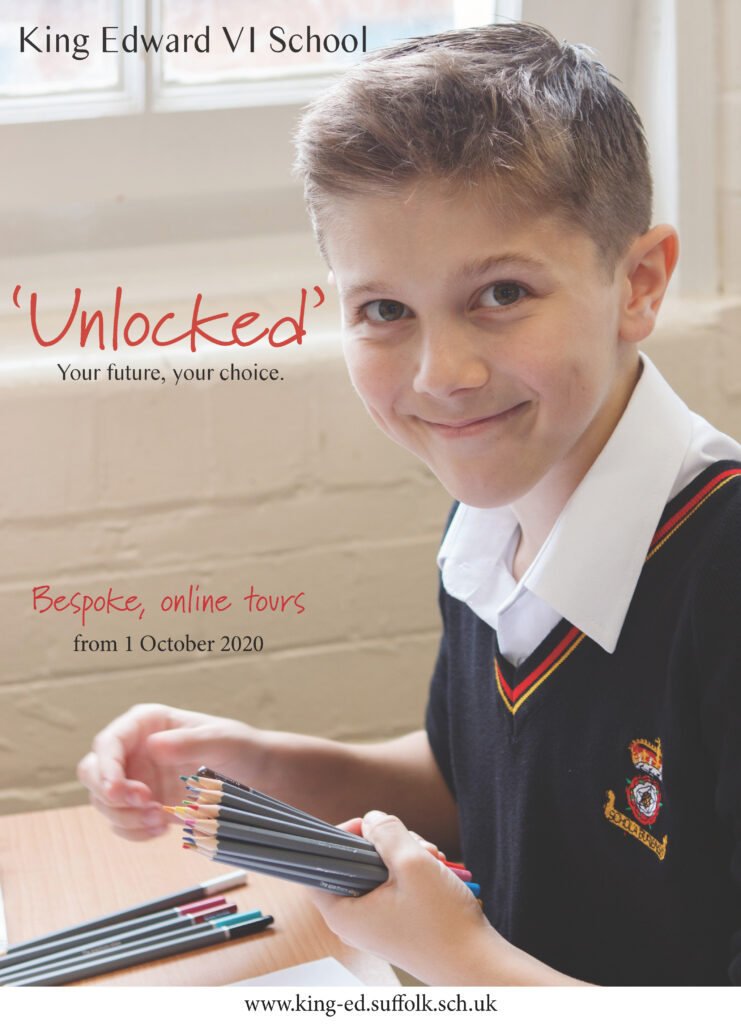 Dear prospective students and parents/carers,
We are delighted to announce that from 1 October 2020 you will be able to create yourselves a bespoke, online tour of our school.
'King Edward VI School: Unlocked' will enable you to choose – from a 'pick & mix' style collection – which areas of school you wish to look at, which celebration and information videos to watch, which documents you are interested in reading, and which aspects of school life you'd like to immerse yourselves in.
This can all be done in your own time and, most importantly, from the safety of your own home. The wellbeing of our whole school community, including those who may wish to join it, continues to be our number one priority and, as a result, we will not be holding an Open Evening in school, or running tours as in previous years.
If you have any questions about 'King Edward VI School: Unlocked' then please do not hesitate to contact Senior Administrator Mrs Dunning (DD@king-ed.suffolk.sch.uk / 01284 761393 ext. 252).
In the meantime we look forward to sharing with you all that we have to offer, alongside the values we hold dear, from 1 October 2020.
With very best wishes to you all,
Lee Walker
Headteacher
---
If you have a concern about any young person please do not hesitate to contact the Suffolk Safeguarding Partnership, please click here.
For information about full reopening 2020 click here.
For all Examinations information and guidance regarding results please click here.
For a Free School Meals information letter please click here.
For 2020 Transition Updates please click here.
For our students' Lockdown work please click here.
---
---

To all our Year 11 Students

We would love you to stay in touch with our school so that we can keep you informed of future events and news and, of course, celebrate your next steps and future achievements.
We always welcome former students at King Edward VI and the opportunity for you to share your experiences going forward would be of interest and help to the students who will come after you.
Just click on this link to stay in touch… Future First