Click here to view our Prospectus.
---
GCSE Results 2023
Congratulations to year 11! Well done on a great set of GCSE results. We are proud of each and every one of you for what you've managed to achieve. The last few years have been challenging and you have come together as a year group and supported each other admirably. Some of you have had significant barriers to overcome and you should be proud of every achievement.
The head boy Arthur Petit says, 'It's been a tough few years but we managed to pull through together and get good grades as a year group. I am really proud of everyone'.
Ruby says, 'I am so proud of how far I have come because I have always had to try a lot harder because I have autism. The school have helped me learn things in a way I understand and helped me understand subjects better. I am very happy with my results'.
Ella achieved 11 x grade 9s
Yashvi achieved 9 x grade 9s
Hugo achieved 7 x grade 9s
Leila achieved 8 x grade 8/9s
Alice achieved 8 x grade 8/9s
Nathan achieved 8 x grade 8/9s
Isabelle achieved 8 x grade 8/9s
Arthur achieved 8 x grade 8/9s
Key statistics
70% of all GCSEs at King Edward VI were grade 4 or above
22% of all GCSEs at King Edward VI were grade 7, 8 or 9
39 students got at least one grade 9
143 students got at least one grade 6
20 students got 2 or more grade 9s
Attainment 8 average is 46
41% achieved a grade 5+ in both English and mathematics
62% achieved a grade 4+ in both English and mathematics
---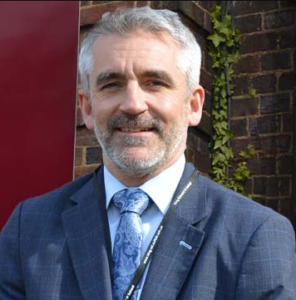 As Headteacher I am extremely proud to welcome you to King Edward VI School website and would like to take the opportunity to explain why this is such a great school.
King Edward VI School has been focused on providing world class education for nearly 500 years and mixes a strong history of academic excellence with a deep commitment to helping every child achieve. We are proud of every student in the school and work tirelessly to nurture and guide them so they can grow into happy, successful young adults who take pride in what they know and have confidence in what they do. As an 11-16 school we are specialists in child development for this critical period of 'growing up' and experts in preparing students for GCSE success.
Embedded deep within the community of Bury St Edmunds we have long standing links within the area which create educational opportunities way above what is normally possible. We are proudly part of a local partnership which provides high quality education for children from 3-18 years, working closely with many local primary schools as well as Abbeygate Sixth Form and West Suffolk Colleges.
With amazing sports facilities, including access to a floodlit athletics arena and cutting-edge performing arts provision we provide our students with great opportunities. For us, at King Edward VI, learning is not just about passing examinations but experiencing a rich education beyond the classroom. We believe this is critical for developing the character, emotional intelligence and life skills which will ensure our students are set up for success throughout their lives.
Part of our core mission comes from our Church of England foundation which is committed to ensuring that standards in the school are exemplary, while supporting their spiritual and ethical development.
Everything we do is underpinned by our values of Curiosity, Care, Courage and Creativity. It is through living these values together that we are the vibrant learning community which supports our students and help them build the exciting futures which they deserve.
Thank you for taking the time to learn about our wonderful learning community. If, after exploring this website, you have any further questions, please do not hesitate to get in contact and one of our staff will get back to you. We would also relish the opportunity to show you around our school if you are interested in sending your child here.
Deri O'Regan
Headteacher
---
Safeguarding
If you are worried about the safety of a young person then please contact our Safeguarding Officer, Sue Sweny: 01284 761393 (ext 287) / SCS@king-ed.suffolk.sch.uk or Tom Spillane, Designated Safeguarding Lead: 01284 761393 (ext 203) / SP@king-ed.suffolk.sch.uk.
If you have a concern outside of school hours, about any young person please do not hesitate to contact the Suffolk Safeguarding Partnership, please click here.
---
Information for Yr 10 & 11 regarding subject revision and support, online learning, pastoral care, and more can be found on our Key stage 4 Success page.
---
To all our Year 11 and former Students (Alumni)

We would love you to stay in touch with our school so that we can keep you informed of future events and news and, of course, celebrate your next steps and future achievements.
We always welcome former students at King Edward VI (KEVI) and the opportunity for you to share your experiences and inspire students who follow you.
Click here to stay connected