Student Destinations
2019-2020 Year 11 Cohort
The chart below shows the destinations of our 2019-20 Year 11 cohort after leaving King Edward VI School. All 217 students in this last Year 11 cohort have a recognised destination i.e. there were no students who were identified as NEET (Not in Employment, Education or Training) from this group.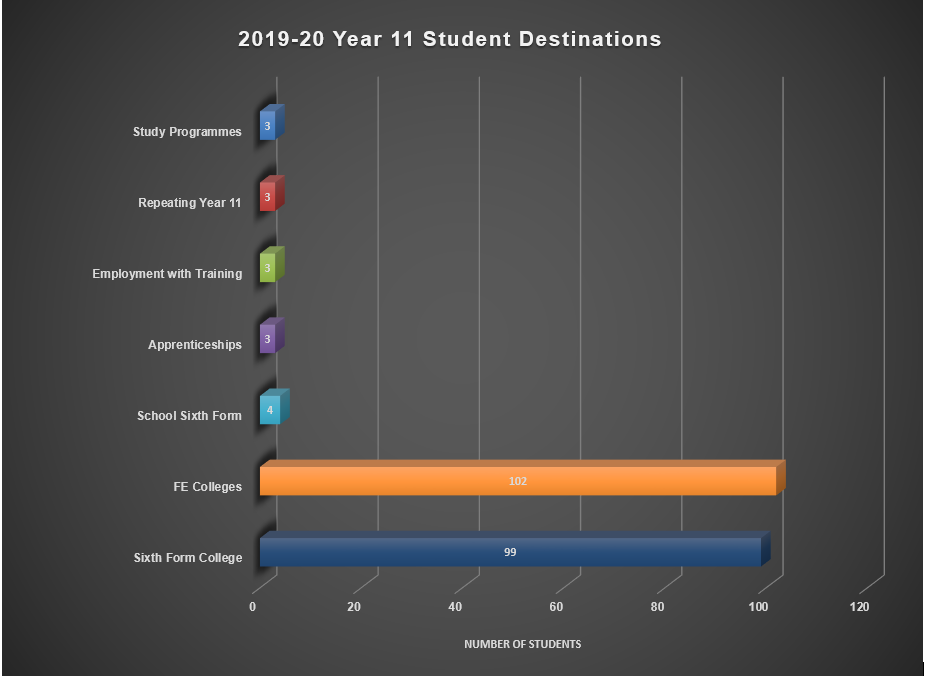 In summary, of our 217 (2019-20) Year 11 students:
47% (102) enrolled on courses in Further Education (FE) Colleges – West Suffolk College, Suffolk New College, Cambridge Regional College/ other FE College
45.6% (99) enrolled to study A levels at Sixth Form Colleges (SFC) – Abbeygate SFC, Hills Road SFC, Suffolk One SFC
1.84% (4) enrolled to study A levels at other School Sixth Forms – Thurston Community College, Culford School, County Upper School
1.38% (3) started apprenticeships and the same proportion (3) gained employment with accredited training
1.38% (3) are repeating their Year 11 curriculum studies at our school
1.38% (3) have started study programmes and sports scholarships