Mark Jones
On writing this, nearly a week has passed since we learned of the death of our colleague and friend, Mark Jones.  Here is our tribute to Mark: In Memory of Mark Jones, 1979-2017.
In order to celebrate his life, we are creating a book in his memory.  Any member of the King Edward VI School community who wishes to, may contribute condolences, memories, thoughts or stories about the man who was our teacher, colleague and friend.  Once the book is completed we will make it available for everyone to read, and thus to remember him.  Please just follow this link in order to contribute.
From the Headteacher
It is hard to imagine a half-term featuring more creative and aspirational opportunities for our students, either in quantity or quality.
'The Phantom of the Opera' was simply superb.  I offer my warmest congratulations to the cast and crew.  I hope you enjoy looking at the photos of the spectacular show.
Our Christmas Celebration took place at St Edmundsbury Cathedral on 12 December.  It was a beautiful event, with poignant moments alongside festive cheer.  Congratulations to all the students who took part.  Year 7s alongside Year 13s – you were superb.
Thank you, too, to FOKES – our newly-formed parent-teacher association.  FOKES (Friends of King Edward VI School) made its debut at our Autumn Concert by selling programmes and running a raffle.  They were out in force again for 'The Phantom of the Opera', and once more at our 'Celebration of Christmas' at St Edmundsbury Cathedral. Both before and after the service, they warmed the congregation's cockles with delicious mulled wine, and kept hunger at bay with mince pies.  Thank you to FOKES for everything you have already done to benefit our students and our school.
Other than our six colleges' Christmas Lunches and Achievement Assemblies, festive classrooms and the Sixth Form show, it is very much 'business as usual' as our Year 11 students sit their mock exams and other year groups complete their schemes of work in time for the Christmas break.
I wish you all the very best.
Lee Walker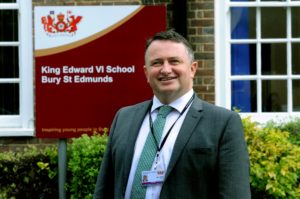 As ever, you can also keep up-to-date with our students' adventures and successes via our Facebook page and Twitter feed (links at top of page).