From the Headteacher
Happy New Year! I hope you have had an enjoyable and recuperative break.
As I welcome both students and staff to this, my third term as Headteacher of King Edward VI School, I am eager to share my excitement regarding the busy term which lies ahead.
Amid more mock examinations (this time for Year 13), we look forward to welcoming current Year 6 pupils from within the Bury Schools Partnership to this year's 'Move up Monday' events.  We will also be leading our Year 9 students through the process of choosing their GCSE options, and this half term alone will be punctuated with a Sixth Form Crime Conference, a dance show and workshops, theatre trips, music performances, PSHE conference days and parents' evenings.  The next meeting of FOKES, our new parent-teacher association will be held in the Library at 7pm on Thursday 11 January, and our next Parent Forum will be held on Tuesday 6 February.
Alongside these events, we continue to focus on the 'basics'.  I appreciate your support in ensuring that your child arrives at school on time, has the correct equipment with them each day, completes all of their homework and presents their work with a high degree of neatness and attention to detail. I have emphasised these details to staff too as – together – we can make your child's experience at King Edward VI School truly exceptional.
I wish you a happy and healthy 2018.
Lee Walker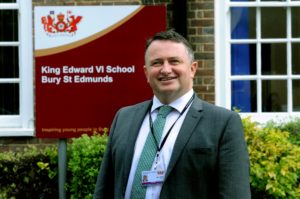 As ever, you can also keep up-to-date with our students' adventures and successes via our Facebook page and Twitter feed (links at top of page).