From the Headteacher
Here are our CORE values, of crucial importance to us all, which govern everything we do:
Respect   

As a truly inclusive school, we understand and value the rights, feelings, beliefs and wishes of others. Thus we live honestly, with civility, tolerance and social conscience. We are truthful and kind, and we care for each other.   
Aspiration   

In an atmosphere which encourages a deep love of learning, we all aim to be the very best we can be. We are ambitious, courageous, determined and resilient, and we believe that anything is possible. 
Creativity   

We are an inspirational and outward-looking community. We seek to create opportunities, both in and out of the classroom, for students and teachers to thrive – for the rest of their lives.
We have spent some time revising our approach to achievement and behaviour for learning.
Our core values of respect and aspiration clearly show the importance we place on students behaving well, having the right equipment, being punctual and trying their best at all times.
We will be even more explicit this year in awarding merits for excellent work and contribution to school life. If students make poor learning choices, our staff will be consistent in warning students and helping them to change their behaviour. We have also centralised our detention system to help students improve their attitude to learning and their own progress.
A reminder that the school day begins promptly at 8.55am. For students this will be either a tutor session or an assembly. Students must be on the school site by 8.50am, so that they can get to where they need to be for the start of the day. We will be locking all gates apart from the main entrance on Grove Road at 8.50am. If students arrive after this, they must use the main entrance, and will be recorded as late. Please help us by doing all you can to ensure your child arrives on time. Being punctual and well prepared for the day ahead is an essential habit for children to develop, and one which will stand them in good stead for the rest of their lives.

Finally, we have taken steps to increase the security of the school site. All visitors to the school must use the main (Grove Road) entrance, where we have an electronic signing in system. All staff and Sixth Form students will wear lanyards (these will be issued to students over the next week or so). The gate on Spring Lane will be locked during the day and will not be accessible to visitors.
I am confident that by tightening up the basics, our core values and vision for the future can be enjoyed by our wonderful students – your wonderful children. I will be writing home to all parents and carers soon with further detail of these (and other) important matters.
I wish you all the very best for the year ahead,
Lee Walker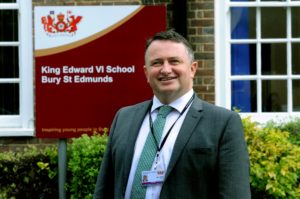 As ever, you can also keep up-to-date with our students' adventures and successes via our Facebook page and Twitter feed (links at top of page).