Welcome back.  We hope you had a restful Easter break.
Below is a link to our termly magazine, Celebrate.  It has a whole new look – fresh, clean and stylish.  It celebrates the wonderful achievements, efforts and adventures of our students.  We hope you enjoy reading it.
We'd love to meet you…
Students and staff are now giving tours to children, along with their parents/carers, who are interested in joining us at King Edward VI School. Our Tour Guides are friendly, confident students in Years 7 and 8 who will help you form an impression of our wonderful school. They will show you our bespoke science, art, design and sporting facilities, as well as introducing you to members of our leadership, teaching and support teams.
Most importantly, perhaps, they will answer the questions you and your child may have about life at King Edward VI School. If having a relaxed walk around the school – while gaining a sense of the calm, conscientious and creative atmosphere – appeals to you, then please do not hesitate to get in contact: DD@king-ed.suffolk.sch.uk or 01284 761393.
If you can't wait until then, then here's a sneaky peak:
---
---
The Basics
As students pack their school bags for the week ahead, we would like to take this opportunity to highlight the basics.  All students are expected to:
come to school in perfect uniform (a coat will be absolutely essential during this particularly cold spell)
have completed their homework
place their books, planner and fully-stocked pencil case on their desk at the very start of every lesson
play their part in keeping our school litter-free.
We thank you for helping to maintain our school's high standards in these important matters.
From the Headteacher
It's a tantalising time for our Year 13 students as offers come in from universities near and far. Our students are working away, putting immense effort and energy into their exam preparation, knowing that the results they receive will shape, at the very least, the next stage of their young lives.
First of all, the Oxbridge offers arrived:
University of Oxford (Politics, Philosophy and Economics)
University of Oxford (Archaeology and Anthropology)
University of Cambridge (History).
And then a long list of highly-distinguished institutions, many Russell Group, began to send their offers to our wonderful students.
It's very exciting to see the range of courses our young people are aspiring to study, and we wonder which event, conversation or opportunity sparked their interest in, or love of, their respective subjects. We are fully behind you Year 13 – keep going.
During the half-term break we hope that students and staff can take time to relax, to see friends and family, to read and to get outdoors. We wish the very best to our Geographers adventuring to Iceland for a field trip, and also to those who are departing on the school ski trip.
The second half of term is filled to the brim. Punctuating the continuing mock and final exams are our 'Festival of Dance' at The Apex, our two-night Spring Concert 'West Suffolk to the West End', our Year 9 PSHE Conference, performances by Ex Silentio and No Girls Allowed at Snape Maltings, National Science and Engineering Week, the ILAFS Archaeological Dig… the list is as diverse as it is long.
I would like to offer my very sincere thanks to everyone in the wider school community for the support you continue to show the school.
With very best wishes,
Lee Walker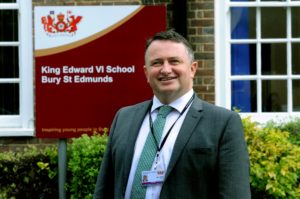 Click here for the special Valentine's edition of our superb Sixth Form magazine, 'The Iconoclast'.
As ever, you can also keep up-to-date with our students' adventures and successes via our Facebook page and Twitter feed (links at top of page).