Headteacher's Welcome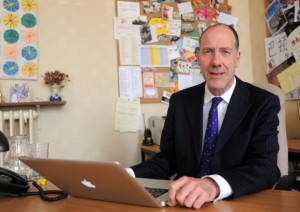 Welcome to King Edward VI School. It is a school of which we are very proud, and I hope that this website gives you a flavour of why.
We believe that our core purpose is to prepare young people to take their place as the next generation of global citizens. We need them to have the skills, the knowledge, the resilience and the qualifications.
And we believe that while many of these qualities can be acquired within the classroom, within lessons, it's also important to provide a rich and varied programme of extra-curricular activities around the classroom. We are also committed to our unrivalled international leadership programme: hundreds of our students benefit from this.
That's why our list of enrichment activities is so extensive. It's why we give so much emphasis to music and the arts, and to a magnificent range of sporting opportunities. It's why we offer everything from tutor time dodgeball tournaments to GCSE Latin.
As a proudly comprehensive school, we believe that opportunities like this should be open to every student, irrespective of their background and their parents' income.
We hope that all of this gives you a rich flavour of what makes us distinctive as a Church of England school, and why for more than 400 years we have been 'schola buriensis' – the school of Bury St Edmunds.
Thank you very much for your interest in our work and values. Whatever the age of your child, do come and take a look round during the school day. We would love to show you the calm, purposeful ethos for which we are renowned.
You'll see why students and parents from across West Suffolk and beyond entrust us with the responsibility and privilege of educating young people aged 12-19. It is something we never take for granted.